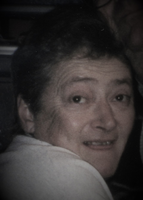 Eileen M McHale
Eileen Mary McHale (nee Barry), 74, of Hackensack, passed away at Holy Name Hospital in Teaneck, NJ.
She was born in Birmingham, England, and spent many summers with family in Doon, County Limerick, Ireland. She grew up in London, England, and attended the Brompton Oratory and Cardinal Manning schools. She trained as a dressmaker's apprentice for a large department store on Oxford Street, London, and after receiving certification, she worked as a dressmaker at a boutique in Knightsbridge, London.
Eileen's family immigrated to the United States when she was 19. She worked for Prentice Hall in Englewood Cliffs, NJ; was a route distributor for the Bergen Record in Hackensack, NJ for eight years, and retired as a lunch and after-school aide at Fairmount Elementary School in Hackensack, NJ after 26 years.
She leaves behind her dedicated husband of 51 years, Joseph M. McHale, Sr., loving daughter Michele and husband Stanley Sharko, Jr. of Baltimore, MD; loving daughter Amanda Soler of River Edge, NJ; loving sons Joseph M. McHale, Jr. and Michael McHale of Hackensack, NJ; adoring grandchildren Nigel J. Soler and Abigail R. Soler, and devoted sister, Kathleen Barry, of Houston, TX, as well as many cousins, nieces and nephews.
She is predeceased by her father, James J. Barry and mother Mary Barry (nee Neylon), of Ft. Lauderdale, FL, and her sisters Moira Finch of Epsom, Surrey, England, and Bridget (Patsy) Barry, of Ft. Lauderdale, FL.
Eileen enjoyed vacationing around the world with her husband, travelling as far as China and Russia. She enjoyed shopping in Lancaster, PA. She was an animal lover, and took great pride in gardening and decorating her home and yard, especially for Halloween and Christmas. She loved her family dearly, and relished in bringing everyone together for the Thanksgiving and Christmas holidays.
Prayer service on Monday, November 26 at 11:30 a.m. at the G. Thomas Gentile Funeral Service, 397 Union Street, Hackensack. The family will receive friends on Sunday, November 25 from 4:00 p.m. to 8:00 p.m. Cremation will be private.
In lieu of flowers, the family requests donations be made to the American Diabetes Association.